Packet Pickup
Saturday Night or Sunday Morning
You will be able to check-in at Chair 9 Pizza (10459 Mt Baker Highway) and pick up your bib and timing chip 20-30 minutes prior to your ride. Alternatively, if you are staying in the area, you can also pick-up your bib and timing chip on Saturday evening from 3-5 pm at Chair 9 Pizza.
NO Cell Service
Please Plan Accordingly
There is no cell service at Chair 9, in the town of Glacier or the surrounding area. Service at Artist Point depends on your carrier. Please plan accordingly with your support team.
Start Line/Parking
All start lines begin at Snowater Road, just east of Glacier, WA. Parking Attendants will direct you where to park. All vehicles will need to have a NW Forest Pass ($5) to park at Artist Point. As parking is limited near the town of Glacier, we ask that you carpool to the event if possible.  Please, no day parking in the Chair 9 lot, it is reserved for drop off, the shuttle and volunteers.
Our message board is an excellent source for planning carpools and/or riding buddies.
PLEASE NOTE: The highway closes to traffic at 7:00 am sharp and remains closed Eastbound AND Westbound until 12:00 noon.
Social: 7:00 AM
Recreational: 8:00 AM
Competitive: 8:30 AM
Transportation and Bag Drop Details
Catch a Ride!
Due to limited parking, we strongly recommend that you carpool to the event. The Baker Bus will be available to shuttle bags to the top and then cyclist back down who don't wish to ride. They will depart from Chair 9 promptly at 7:45 am for Artist Point, if you would like to transport a bag to the top with clothes, food, etc, please tag your bag with your 1) name and 2) contact info and it will be at the Finish Line for you. A second smaller shuttle will transport remaining bags at 8:30 am. The Baker Bus will also be offering a ride down for cyclist who don't wish to bike down. The shuttle will depart Artist Point at approximately 10:30 am (or when full) and is limited to 20 passengers on a first come, first serve basis. The shuttle will be equipped with a trailer for bikes but please note that bikes transported down are at the rider's own risk. A second shuttle will depart from Heather Meadows Cafe if needed at approximately 1:00 pm.
The best way to be guaranteed a quick ride down is to cycle or to have a support person who drives a vehicle equipped with a bike rack up to Artist Point prior to the 7:00 am road closure to await your arrival, the views and hikes are beautiful. A NW Forest Pass ($5) is required to park at Artist Point. Alternatively, riders who are carpooling can leave a car at Artist Point Saturday night so it is there for you post-ride. Don't forget the key!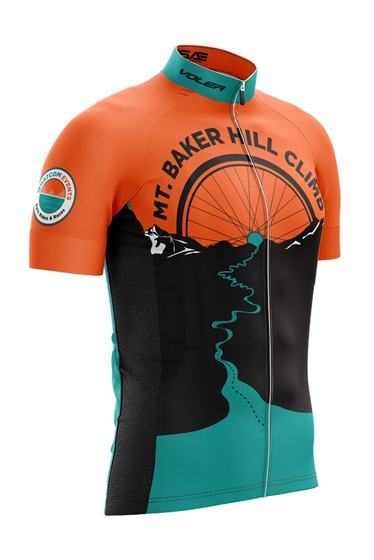 RIDE IN STYLE
Voler Jersey order is OPEN.  Order by July 31st for shipment by Race Day.  Shorts (limited sizes) and caps are available on race day.